During the #CovidQuarantine my husband and I have found a few unique ways to spend time apart, together. If you're living in a home with even a single bedroom, I'm jealous of you. Here's the deal, we have a 700 square foot loft apartment that we adore. The apartment is in a great location, has beautiful views of the mountains, and is quite affordable. The only downside? It's not quarantine approved. It's just too small.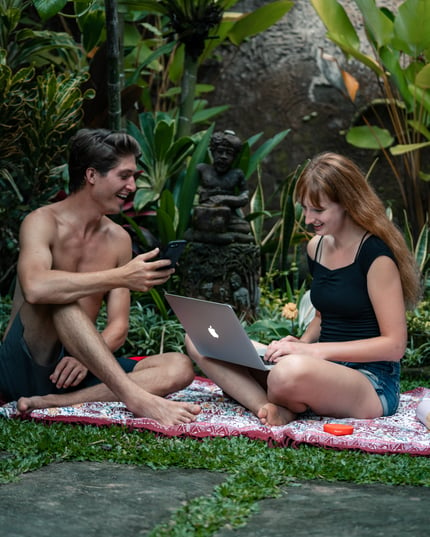 My husband is a gamer and I'm a work-from-anywhere'r. We also stream all our shows and music so, internet is a hot commodity around here. Unfortunately, we don't live in an area that offers great internet. Especially not for two people constantly hogging the bandwidth.
Back in our "normal life," it wasn't that big of a deal. We both worked 40+ hours a week and spent a lot of our time away from the house. However, with long hours at home, it was important for our marriage (and sanity) to find a few ways to keep busy while also creating some space for one another. Today I want to share with you 3 ways you can keep your relationship strong during quarantine when you're both avid internet users looking for a little space.
Home Is Where The WiFi Is…
Since my husband and I are spending longer hours engulfed in our screens, it was important that we found ways to support one another's time working, learning and playing without constantly asking, "hey, is the internet working for you?" Because let's face it, when you're an hour or two into a project - you just want to be left alone!
Here are our top three solutions to sharing "office space" and wifi at home!
1. Establish Your "Work Zones"
Did you know that you're more likely to succeed if you separate where you work from where you play? Working from home sounds like a dream until you're faced with the reality that you're working from home, living at home, spending your free time at home - and you just want to leave!
Resolution? Establish your "work zones". For me, this was already in place considering I have been working from home for a while but it was important for me now more than ever to really stay in my work zone.
Working from bed or the couch might have been okay before when I had the option to join a happy hour after work or go out for dinner, but now this 700 square foot sanctuary has slowly become a prison (okay, that's a little dramatic but I think we have all been there at some point during this).
Establishing your "work zone" separates your work life from your home life. It also creates a boundary between you and your partner to determine personal space where needed.
Although my husband and I are on our computers in the same room, we mentally know that these "work zones" are sacred zones not to be invaded by the other partner.
2. Adopt New Ways Of Doing Things
As I mentioned earlier, our home internet really isn't meant for two of us constantly oogiling and googling our lives away. Because sharing is caring, we decided to bring our Skyroam Solis X into play.
We absolutely love this tool and have used it on road trips and overseas. Why not use this handy dandy device at home?
My job requires flawless internet with a strong connection, the Skyroam Solis X offers me stability during my working hours while also a clear signal strength for my countless online meetings. No more asking, "hey, is the internet working for you?" And that's a win in my book.
My husband can read, play video games, and learn on our home internet while I work, stream, and video chat on the Skyroam Solis X...apart, but together.
3. Spend Quality Time Together
It's easy to be around your partner all day, every day, and still never really spend time together. At the end of the day, take some time to devote to one another. Move out of your work zones, shut off the screens, and have a conversation or go for a walk.
Feeling "cooped up" with someone can start to take a toll on your mental health and your relationship. Being aware of one another's personal space, feelings, and needs during this time is extremely important and a great way to continue building your bond together.
Find Your Freedom-Space
If you live in an area that you can get out and about, do it! Go for a hike, a walk, or even partake in a little "get-a-way" with your partner and disappear into the woods for a night of camping.
Finding your freedom-space, a place you can escape the walls of your home for a few hours will help refresh your mind and renew your spirit. You'll be surprised at how much better you feel with a little fresh air and time spent elsewhere with your Love.
4. Be Responsible When Adventuring
Just because you CAN get out doesn't mean that you SHOULD get out. Keep in mind your health and where you live. If you are in a small town on the edge of nowhere, or capable of driving to such a place, then take advantage of it. If this isn't an option for you, then you may need to get a little more creative with your adventures.
Here are few ways you can spark some excitement if you're nowhere near that holy grail, the middle of no-where-forest:
Do a little rearranging for feng shui, you may just find that you like the new "flow"
Put on your favorite album and cook a meal together
Have a virtual game night with some buddies
5. Work Outside of the Home
I know I said earlier you need your "work zones," but getting out of your home and working from even your parked car may give you the space and quiet that you need to knock out some deadlines.
I live near a beautiful canyon that I like to drive out to pop open the trunk of my RAV4 and sit at my makeshift desk with my Skyroam Solis X and work for a few hours. Not to mention, it makes for some excellent online video meeting backgrounds.
I get alone time, out of the house, and decent work hours in all while feeling like I'm living that #vanlife.
Keep Dreaming Together
Has quarantine got you down? Missed out on some awesome travel plans? That's okay. Keep dreaming together! Now is an excellent time to start thinking of what's next for you and your partner. Maybe you'll find that all this time together has actually prepared you both for that #vanlife. Or maybe, you'll need a nice resort with lots of room and lots of activities.
6. Prepare Now for Your Adventure "Tomorrow"
I know from personal experience, it can be a little like a hurricane when entering into "dreamland." One moment you're sitting at your desk, tired from the long hours you've so successfully put in - and then next? You're packing up your car, driving 4 hours south into the Arizona desert, and suddenly realizing that you forgot your camp stove. Um...is there a Target out here?
Using this quiet time to set your next adventure up for success by making lists with your partner, bouncing ideas off each other, and maybe even participating in a test run by camping or adventuring near your home could make the transition from dreaming together to adventuring together again much smoother.
7. Consider the Possibilities!
Have you always dreamed about working remotely so that you could travel more? Well guess what, this is the perfect time to start researching remote-jobs, honing your communication and adaptability skills, and finding out if you got what it takes to take the show on the road.
What companies are learning now more than ever is that remote employees and remote contract workers are precious commodities (because not everyone can work from anywhere successfully - meeting deadlines and building interpersonal relationships with other remote co-workers).
When I first started my remote job, my husband and I had the grand idea of a 3-month road trip from Colorado, up the west coast, and across Canada and circling back down through Montana towards home. Followed by a 2-month adventure to Bali, Indonesia. Guess what? We did it.
That summer was one of the most memorable adult adventures of my life thus far. We were able to live this way thanks to remote work but I was only able to work remotely thanks to my Skyroam Solis X.
As a remote worker, security has to be of the utmost importance - using public wifi across the States or internationally is a surefire way to put your company's security in a very vulnerable place. Using the Skyroam Solis X I was able to stay connected safely.
Whatever your next adventure might be, don't give up on it. Dreaming together, whether it's about a killer vacation, business venture, or going out to your favorite restaurant when it's open to public dining again is an excellent way to build hope and resilience in one another.
You've got this! Here's to you and your relationship.