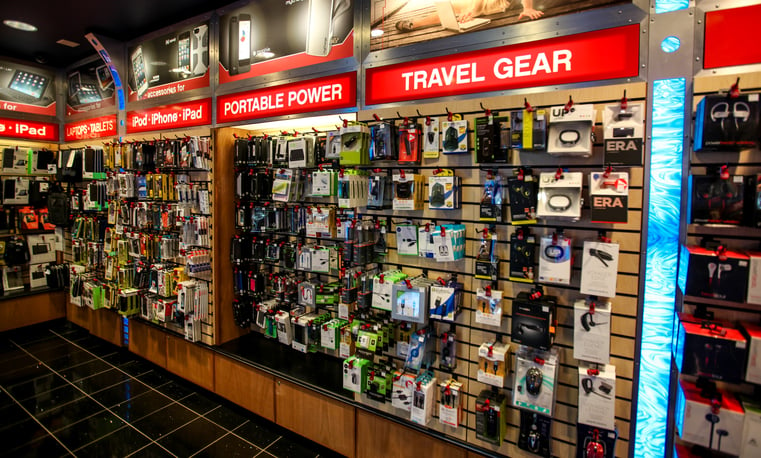 Photo by: Denver International Airport
International Roaming Today
So, you've booked yet another trip overseas! You have your plane tickets, places to stay and a nice itinerary laid out. But how are you staying connected as you travel about? If you're a seasoned traveler you may have dabbled with quite a few international roaming pains — scrambling to find local SIMs to use on burner phones or getting a different portable WiFi in each country you step foot in. Perhaps one time you let carrier roaming rates determine your fate and got slammed with bill shock (like this whopping $3,632.50 bill Teresa received after visits to Europe and Mexico). Skyroam has arrived to tackle these issues, giving travelers the freedom to stay connected from country to country without the usual hassles like overage charges and SIM swapping. Thanks to a new partnership with a great airport store, you can pick up your own travel WiFi along your trip route!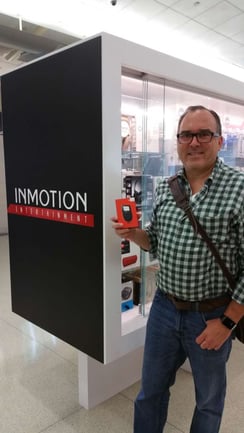 Skyroam's Personal WiFi Hotspot at InMotion Entertainment Stores
We're very excited to announce Skyroam Hotspot has landed at one of our favorite airport shops in the USA, InMotion Entertainment, which stocks some of the best entertainment and tech gadgets around! Our general manager of North America, Eric Plam (pictured right), dropped by its San Francisco International Airport shop for a visit and had to say, "I love InMotion, it's a great place to stock up on travel gadgets — especially the noise-canceling headphones you forgot to pack. We're happy to have Skyroam Hotspot here among all the cool travel gear."
Grab & Go: Available at 35 International Airports in the USA
We know how busy everyone gets... so we made it easy to pick up a Skyroam Hotspot along your travel route by partnering with InMotion Entertainment stores all the way from LAX to MIA. The best part is once you get our little global hotspot gadget, you get mobile data coverage at dozens of countries around the world. Just stop by one of the shop locations below and look for the little orange box. Be sure to Tweet or Instagram a photo of your new gadget at the store. We're giving a free WiFi daypass to the first 10 new customers who share the pic to @MySkyroam with hashtag #WiFiAnywere!

Anchorage (ANC)
Atlanta (ATL)
Baltimore/Washington (BWI)
Boston Logan (BOS)
Bush Intercontinental (IAH)
Charlotte/Douglas (CLT)
Chicago O'Hare (ORD)
Cleveland Hopkins (CLE)
Dallas/Fort Worth (DFW)
Denver (DEN)
Detroit Metro (DTW)
Jacksonville (JAX)
John F. Kennedy (JFK)
Los Angeles (LAX)
Miami (MIA)
Minneapolis/St. Paul (MSP)
Nashville (BNA)
New Orleans (MSY)

Newark Liberty (EWR)
Oakland (OAK)
Orlando (MCO)
Philadelphia (PHL)
Pittsburgh (PIT)
Portland (PDX)
Reno-Tahoe (RNO)
Ronald Reagan (DCA)
Sacramento (SMF)
Salt Lake City (SLC)
San Antonio (SAT)
San Diego (SAN)
San Francisco (SFO)
Seattle/Tacoma (SEA)
Tampa (TPA)
Washington Dulles (IAD)
Will Rogers World (OKC)