Welcome to the last post in our business travel series! This week, we will be talking about balancing work and travel, and tools that will help with this task!

Working efficiently while traveling is a challenge, and many people choose to enjoy these two things separately. However, if you work remotely or often take business trips, finding a travel/work balance and effectively corresponding with team members become important challenges that require discipline and focus.

Luckily, in this day and age, we are equipped with a wealth of digital resources that help us maintain productivity and connectivity on the road.

Check out these tools for optimizing work and travel: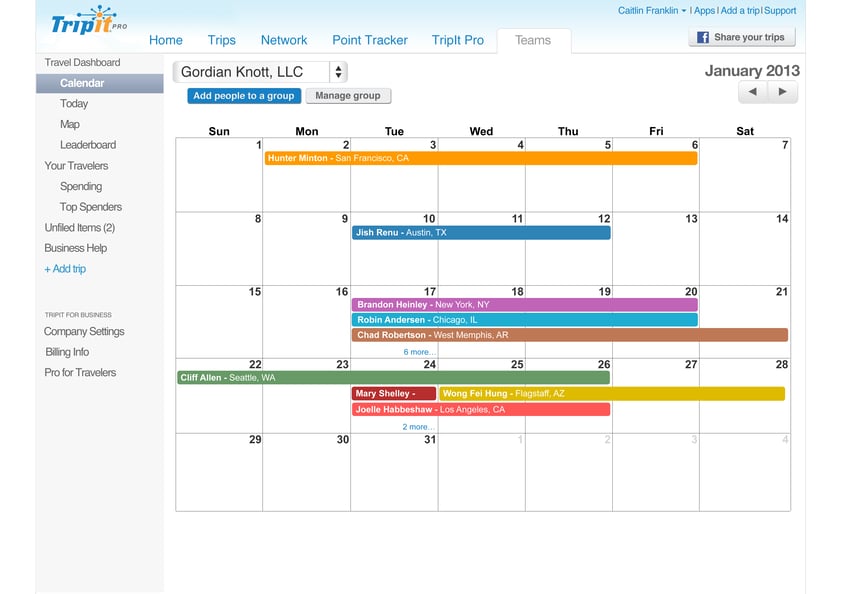 Image from TripIt.com
TripIt gathers travel documents from your e-mail, and uses them to automatically organize upcoming trips into full itineraries. It is a great app for frequent travelers to keep diverse travel plans in one place.
When you are working remotely but still part of a team, TripIt for Teams maps out the location of all members at any given time. Team calendars, shared travel itineraries, and live updates keep everyone in the loop, enabling seamless communication. For example, if someone's flight is delayed, TripIt notifies all relevant team members in real-time.
TripIt for Teams is also a great way to foster relationships between co-workers. If you are traveling to a new city and one of your team members happens to be there as well, TripIt will inform you, and you can connect face-to-face with someone you may have only met previously through telecommuting.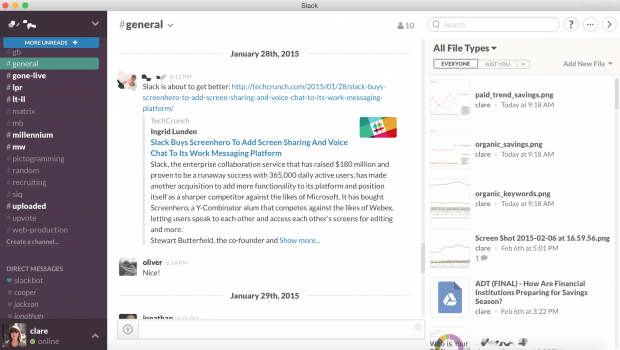 Slack streamlines all communication into one versatile platform, and is a perfect resource for teams that are completely virtual. Resembling Gchat but with even more functionalities, sending a quick message on Slack allows you to avoid unnecessary meetings and floods of scattered e-mails.
Transparent public channels, private channels, and direct messaging are all customizable features of Slack. Sync other tools (Google apps, Dropbox, etc.) you use to Slack and consolidate all of your work and notifications into one convenient location. You can even upload and archive files like PDFs, spreadsheets, and images, which can then be searched for and shared by all team members.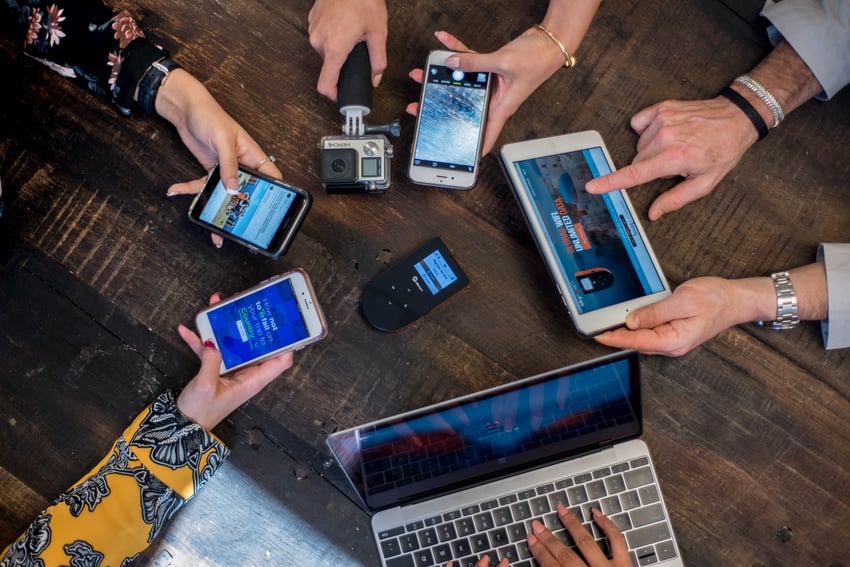 Who would we be if we didn't give ourselves a little plug?
When you work remotely or travel frequently for business, constant connectivity cannot be compromised. That's why Skyroam has become an indispensable companion to business travelers, bloggers, and digital nomads alike.
Trips abroad and long days in transit need not be accompanied by lost productivity any longer. Skyroam's personal WiFi hotspot provides unlimited data on-the-go in 100+ countries for $8 a day—an absolute steal if you have any experience with sky-high data roaming charges.
Equip yourself with the Skyroam Global Hotspot, connect up to 5 gadgets simultaneously to WiFi, and never worry about getting work done while traveling again!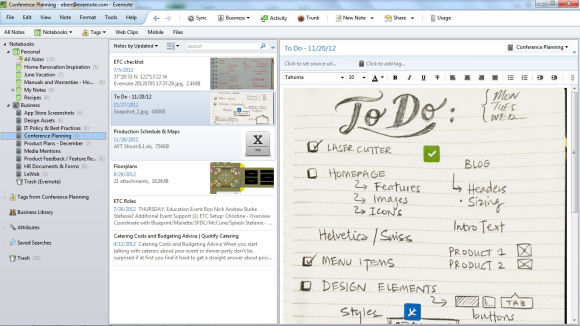 Image from PCWorld.com
Evernote? More like Forevernote.
In Evernote, you create categorized notebooks where you place your notes. The notes themselves are essentially text files that automatically save and sync across all your devices as you go. Add task lists, images, or clippings directly from the web, and easily search for any note using keywords. Great for collaborating and sharing, you can post your note directly on social media, copy and paste public Evernote links, or e-mail notes to your friends and co-workers.
I mainly use Evernote for writing, but there are an endless number of cool features to experiment with. Audio notes, note formatting, e-mail reminders, and creating a table of contents are just a few examples.
Since every type of work generally includes some type of writing, Evernote is ideal for working and documenting creative brainstorms while traveling.
VIRTUAL PERSONAL ASSISTANT
Working while traveling means having virtual meetings with people from all time zones. Because of this, finding an agreeable time for both parties can often be difficult and time-consuming.
Allow me to introduce you to Amy Ingram.
Amy is an AI powered personal assistant that handles tedious back-and-forth e-mailing to schedule meetings on your behalf. Once you sign up for beta access on the x.ai website, simply Cc amy@x.ai on any meeting request you receive, and she will find a time, location, and communication medium based on your availability and preferences.
Clara is another AI powered personal assistant. With Clara, you can tailor requests according to priority, add additional meeting information, and even schedule recurring events. Isn't technology amazing these days?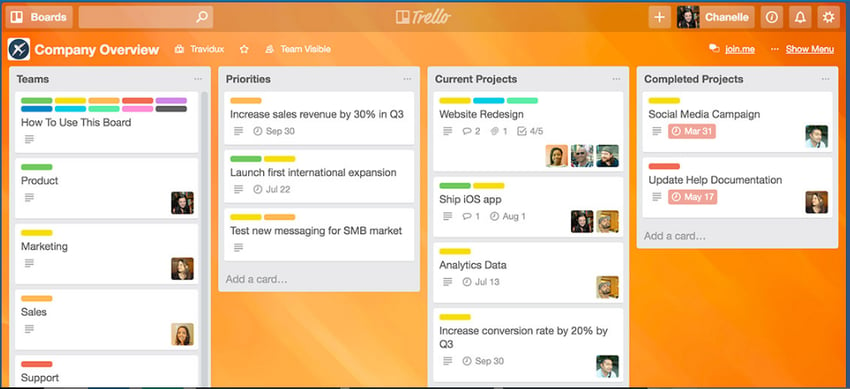 Image from Trello Blog
Trello is an infinitely flexible tool for organizing clients, tasks, and deadlines—anything really—into a comprehensive format.
With Trello, you create boards comprised of lists containing multiple cards. Each component is customizable and movable—cards can be dragged to different lists, opened, and filled with whatever information you'd like; lists can be reordered and moved to different boards if necessary.
For interactive work, add teammates to appropriate boards or tag them on specific cards; they will receive alerts regarding their new responsibilities. Other great functionalities include uploading images onto cards for Pinterest-like organization, creating checklists, adding due dates with the option of automated e-mail reminders, and colored labels.
The subjects of Trello boards can range from recipe gathering and interior decorating to job hunting and PR outreach strategy. Adaptable and intuitive, Trello is the perfect solution for ninja-like project management while working remotely.
If you are familiar with Whatsapp, WeChat is a similar tool used ubiquitously for business and personal communication in Asia (though it should be adopted everywhere in my opinion).
Here is a short list of why WeChat is the best:
It is free to download use with WiFi
You can create groups on WeChat that keep relevant players in the loop at all times
WeChat is a global service, making it easy to stay in contact with people from all over the world—perfect for team communication during business trips!
WeChat comes with photo sharing, video calling, and voice message functionalities that are incorporated right into chats
Share short statuses or photos with your connections on a personal "moments" page that is similar to Twitter or your Facebook wall
WeChat has a seriously awesome variety of emojis and stickers for making any conversation fun!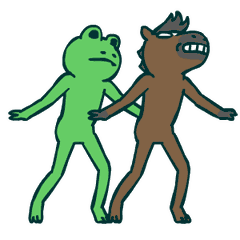 Gif from WeChat Blog
Best wishes for happy and productive traveling from the Skyroam team!

---
To learn more about Skyroam global hotspot, or to buy or rent one for your next trip, click here. Sign up for our newsletter on the Skyroam website to receive special offers!